Today I present you my favorite pirate movies (or what I call... MUST SEE for any pirate enthusiast!)
Released: 1935
Country: USA
Length: 119 minutes
Rated: G
Format: B&W
Language: English
Genre: Adventure
Storyline (from
IMDb
): Arrested during the Monmouth Rebellion and falsely convicted of treason, Dr. Peter Blood is banished to the West Indies and sold into slavery. In Port Royal, Jamaica the Governor's daughter Arabella Bishop buys him for £10 to spite her uncle, Col. Bishop who owns a major plantation. Life is hard for the men and for Blood as well. By chance he treats the Governor's gout and is soon part of the medical service. He dreams of freedom and when the opportunity strikes, he and his friends rebel taking over a Spanish ship that has attacked the city. Soon, they are the most feared pirates on the seas, men without a country attacking all ships. When Arabella is prisoner, Blood decides to return her to Port Royal only to find that it is under the control of England's new enemy, France. All of them must decide if they are to fight for their new King.
Director: Michael Curtiz
Writers: Rafael Sabatini (novel), Casey Robinson (screenplay)
Stars: Errol Flynn, Olivia de Havilland, Lionel Atwill and Basil Rathbone
The Count of Monte Cristo
Released: 1934
Country: USA
Length: 113 minutes
Rated: G
Format: B&W
Language: English
Genre: Adventure
Storyline (from
IMDb
): Edmond Dantes is imprisoned in the Chateau d'If without trial, for carrying a message from Napoleon in exile on Elba. After being told that he died in prison, his fiancé Mercedes is forced to marry his rival Count Mondego. Twenty years later, Dantes escapes with the help of the Abbe Faria, who leaves him the treasure of Monte Cristo. Dantes, now called the Count of Monte Cristo, plans his revenge on the three who framed him.
Director: Rowland V. Lee
Writers: Alexandre Dumas père (novel), Philip Dunne (screenplay)
Stars: Robert Donat, Elissa Landi and Louis Calhern

Released: 1940
Country: USA
Length: 127 minutes
Rated: NR
Format: B&W
Language: English
Genre: Adventure, Romantic

Storyline (from IMDb): Geoffrey Thorpe is an adventurous and dashing pirate, who feels that he should pirate the Spanish ships for the good of England. In one such battle, he overtakes a Spanish ship and when he comes aboard he finds Dona Maria, a beautiful Spanish royal. He is overwhelmed by her beauty, but she will have nothing to do with him because of his pirating ways (which include taking her prized jewels). To show his noble side, he suprises her by returning the jewels, and she begins to fall for him. When the ship reaches England, Queen Elizabeth is outraged at the actions of Thorpe and demands that he quit pirating. Because he cannot do this, Thorpe is sent on a mission and in the process becomes a prisoner of the Spaniards. Meanwhile, Dona Maria pines for Thorpe and when he escapes he returns to England to uncover some deadly secrets. Exciting duels follow as Thorpe must expose the evil and win Dona Maria's heart.

Director: Michael Curtiz
Writers: Howard Koch (screenplay), Seton I. Miller (screenplay)
Stars: Errol Flynn, Brenda Marshall and Claude Rains
Released: 1934
Country: USA
Length: 105 minutes
Rated: NR
Format: B&W
Language: English
Genre: Action, Adventure
Storyline (from
IMDb
): Young Jim Hawkins is torn between his loyalty to his benefactors and his affection for lovable rogue Long John Silver in their struggle to recover a buried pirate treasure.
Director: Victor Fleming
Writers: Robert Louis Stevenson (novel), John Lee Mahin (screenplay)
Stars:Wallace Beery, Jackie Cooper and Lionel Barrymore
Released: 2003
Country: USA
Length: 143 minutes
Rated: PG-13
Format: Color
Language: English
Genre: Action, Adventure, Fantasy
Storyline (from
IMDb
): Mikey Walsh and Brandon Walsh are brothers whose family is preparing to move because developers want to build a golf course in the place of their neighborhood -- unless enough money is raised to stop the construction of the golf course, and that's quite doubtful. But when Mikey stumbles upon a treasure map of the famed "One-Eyed" Willy's hidden fortune, Mikey, Brandon, and their friends Lawrence "Chunk" Cohen, Clark "Mouth" Devereaux, Andrea "Andy" Carmichael, Stefanie "Stef" Steinbrenner, and Richard "Data" Wang, calling themselves The Goonies, set out on a quest to find the treasure in hopes of saving their neighborhood. The treasure is in a cavern, but the entrance to the cavern is under the house of evil thief Mama Fratelli and her sons Jake Fratelli, Francis Fratelli, and the severely disfigured Lotney "Sloth" Fratelli. Sloth befriends the Goonies and decides to help them.
Director: Richard Donner
Writers: Steven Spielberg (story), Chris Columbus (screenplay)
Stars:Sean Astin, Josh Brolin and Jeff Cohen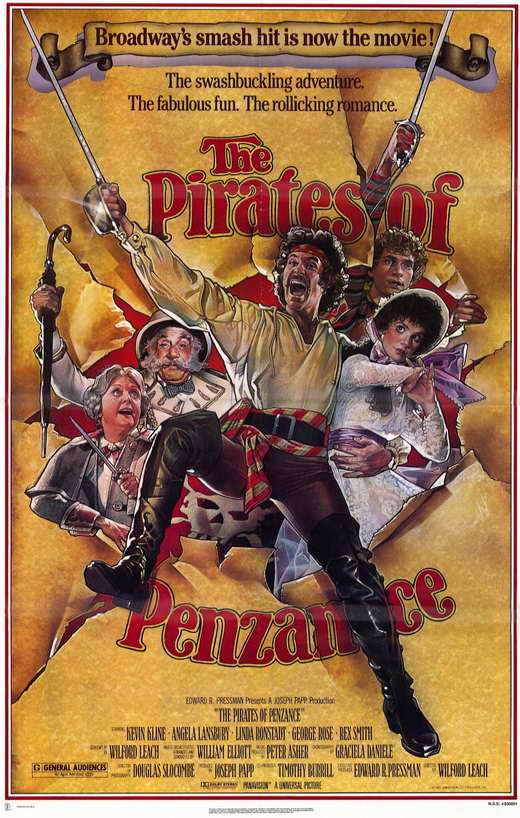 Released: 1983
Country: UK/USA
Length: 112 minutes
Rated: G
Format: Color
Language: English
Genre: Comedy, Musical, Romance
Storyline (from
IMDb
): This movie is an adaptation of Gilbert and Sullivan's comic operetta of the same name, with parts of other of their operettas stirred in. Frederick has fallen in love with sweet innocent Mabel. Yet his vocation is an impediment to their union. Perhaps the situation can be rectified by his old nurse, Ruth, who made a dreadful blunder years before. A highlight is the song/dance A Policeman's Lot is Not a Happy One.
Director: Wilford Leach
Writers: William S. Gilbert (operetta), Wilford Leach
Stars: Kevin Kline, Angela Lansbury and Linda Ronstadt
Released: 1976
Country: Italy
Length: 126 minutes
Rated: G
Format: Color
Language: Italian
Genre: Adventure
Storyline (from
IMDb
): Emilio di Roccabruna count of Ventimiglia is fighting Van Gould who ten years before had killed his father and stolen his family properties. He is known as "Il Corsaro Nero" (The Black Corsair) and his two brothers as Il Corsaro Verde (The Green Corsair) and as Il Corsaro Rosso (The Red Corsair). But the Green Corsair and the Red Corsair are killed treacherously by Van Gould's men while the Black Corsair is entirely taken up by saving an Indian village from the Spaniards. He can save only Yara. Later on he organizes with the help of Morgan his revenge.
Director: Sergio Sollima
Writers: Emilio Salgari (books), Alberto Silvestri
Stars:Kabir Bedi, Carole André and Mel Ferrer
Released: 1986
Country: France, Tunisia
Length: 121 minutes
Rated: PG-13
Format: Color
Language: English, French, Spanish
Genre: Adventure, Comedy, Family
Storyline (from
IMDb
): Captain Red runs a hardy pirate ship with the able assistance of Frog, a dashing young French sailor. One day Capt. Red is captured and taken aboard a Spanish galleon, but thanks to his inventiveness, he raises the crew to mutiny, takes over the ship, and kidnaps the niece of the governor of Maracaibo. The question is, can he keep this pace up?
Director: Roman Polanski
Writers: John Brownjohn (screenplay), Gérard Brach
Stars:Walter Matthau, Cris Campion and Damien Thomas
Released: 1987
Country: USA
Length: 98 minutes
Rated: PG
Format: Color
Language: English
Genre: Adventure, Comedy, Family
Storyline (from
IMDb
): A kindly grandfather sits down with his grandson and reads him a bedtime story. The story is one that has been passed down from father to son for generations. As the grandfather reads the story, the action comes alive. The story is a classic tale of love and adventure as the beautiful Buttercup, engaged to the odious Prince Humperdinck, is kidnapped and held against her will in order to start a war, It is up to Westley (her childhood beau, now returned as the Dread Pirate Roberts) to save her. On the way he meets a thief and his hired helpers, an accomplished swordsman and a huge, super strong giant, both of whom become Westleys' companions in his quest.
Director: Rob Reiner
Writers: William Goldman (screenplay), William Goldman (book)
Stars:Cary Elwes, Mandy Patinkin and Robin Wright
Pirates of the Caribbean:
Released: 2003
Country: USA
Length: 143 minutes
Rated: PG-13
Format: Color
Language: English
Genre: Action, Adventure, Fantasy
Storyline (from
IMDb
): This swash-buckling tale follows the quest of Captain Jack Sparrow, a savvy pirate, and Will Turner, a resourceful blacksmith, as they search for Elizabeth Swann. Elizabeth, the daughter of the governor and the love of Will's life, has been kidnapped by the feared Captain Barbossa. Little do they know, but the fierce and clever Barbossa has been cursed. He, along with his large crew, are under an ancient curse, doomed for eternity to neither live, nor die. That is, unless a blood sacrifice is made.
Director: Gore Verbinski
Writers: Ted Elliott (screen story), Terry Rossio (screen story), Stuart Beattie (screen story), Jay Wolpert (screen story), Ted Elliott (screenplay), Terry Rossio (screenplay)
Stars: Johnny Depp, Geoffrey Rush and Orlando Bloom

(I didn't like the second movie and the third was a total disappointment for me...)

And I can't wait to finally watch...
Pirates of the Caribbean: On Stranger Tides

!
-----------------------------------------------------------------------------------------------
And you? What are you favorite pirate movies?
-----------------------------------------------------------------------------------------------------
-----------------------------------------------------------------------------------------------------------
Everyone who comments on this post is eligible to
win
a
surprise pirate book.
More information about this giveaway

HERE

.